Riflescopes Page 2
The Best Rated Rifle Scopes Of 2017
Function In The Field . Optical Clarity . Brightness.
Quality Of Reticle . Value For The Money
3 Simple Reasons Why You Should Always Check In With USHuntGear
Before You Buy A Rifle Scope
Our Featured Rifle Scopes Continued
Page 2
Ultimate Value is for the better than average hunter who wants an affordable piece of equipment, but wants something that works well for its intended purpose.
Performance Class is for the serious hunter who wants outstanding performance, dependability, durability, etc. In other words getting excellent "performance" for their money.
Professional Hunter Grade is the absolute top of the products available in the higher consumer price range. It's a piece of equipment that will handle most any extreme, something worthy of day in, day out, professional-type use.
Cabelas Instinct Euro Riflescope 4X12X50
Field Score 9.76 out of 10
Lens coating optimizes light transmission during low-light hours
Premium lenses meticulously manufactured to exacting tolerances
Glass coating exceeds military specifications for abrasion resistance
Waterproof, fogproof and shockproof for reliability in all conditions
Backcountry-approved aircraft-grade aluminum construction
Wide field of view and 3.75" eye relief built for open spaces
Hunter Quick Review: We had heard some good things about this riflescope, so we decided to evaluate it, compile the data, and find out the real deal. Everybody has their favorites, and Cabelas definitely has its fan club. But we are interested in the real world results of how a riflescope will function in the field for a hunter. So we moved forward with our homework and drew our own conclusions.
First off, the Cabelas Instinct Euro Riflescope 4X12X50 will run you about $525. This is a higher end scope, not a discount store cheap impulse buy. This rifle scope sits squarely with the top-end likes of Vortex, Leupold, Zeiss, etc. The name Instinct "Euro" works, this is a riflescope that in many respects equals the very best European scope available with a price that is far, far lower.
Secondly, the Instinct Euro is constructed just the right way. It is waterproof, fogproof, and shock resistant in the extreme. The build is super solid - this scope can take a beating and still give outstanding performance. All adjustments are nice, fluid, and precise. The lenses are hyper abrasion resistant.
Third, the Instinct Euro does its job right. The zero stays right on target, it never moves or deviates. The glass is nice and HD clear. The light transmission is excellent, most definitely a nice bright picture in low level light. The reticle is not overpowering, yet bold and defined. The picture definition stays true throughout the magnification band, something most scopes just can't do.
Fourth and final, we are also now believers. After putting it all together, the Instinct Euro is a top quality riflescope that would do better than great on any quality rifle a hunter used it on. If you are looking for European type quality at a price that is about a fourth of a top European import, the Cabelas Instinct Euro may be just what you are looking for.
USHuntGear's Cabelas Instinct Euro 4X12X50mm Performance Rating
Function In The Field
9.8
Optical Clarity
9.8
Brightness
9.8
Reticle Quality
9.8
Value For The Money
9.6
Click On Box Below For Price And More Information
Professional Grade
Vortex Optics Viper HS 4-16x50 Riflescope with Dead-Hold BDC Reticle
Field Score 9.80 out of 10
Magnification: 4-16x / Objective Lens Diameter: 50 mm / Dead-Hold BDC Reticle

Field of View: 27.4-7.4 feet/100 yards / Parallax Setting: 50 yards to Infinity / Fast Focus Eyepiece

Tube Size: 30 mm / Eye Relief: 4.0 inches / Aircraft-Grade Aluminum Single Piece Tube

Turret Style: Capped / Adjustment Graduation: 1/4 MOA / Side Focus / MAG-View Fiber Optic

Waterproof, Fogproof, Shockproof / ArmorTek Coated / XD Lens Elements / XR Fully Multi-Coated
Hunter Quick Review: The Vortex Viper HS 4x16x50 is truly a fine piece of scope glass, plain and simple. The build on the Viper is incredibly rugged. This is a riflescope built for the extreme outdoors where long shots are a real possibility; places like the mountains out West, the Southwestern Deserts, the Appalachian Highlands, the big Midwest farm fields, the wide Dakota plains.
If you want real versatility in your riflescope, the Vortex Viper could possibly be one of the best choices out there. This would be a great high-end Whitetail scope that would allow the hunter generous field of view for close range on 4X power; but dial it up to 16X power and you have a rifle and scope combo able to pick off a stellar buck on the prairie at 400 plus yards. It would also be ideal for Elk, Mule Deer, Pronghorn, and other big game where distance is a potential issue.
The glass on the Viper is crystal clear. The reticle is bold and brilliant, yet fine enough for precision shooting. Light transmission with the 50mm objective is outstanding. This is a great dusk shooter. All moving parts work fluidly and sure.
Top a quality flat-shooting bolt action with this scope, and you have a real, real going concern. Talk about a lethal combination. The Vortex Viper HS 4X16X50mm will run you just about $560. Consider this money well spent if you are a serious big game trophy hunter. It is pretty hard to beat the optical quality, range versatility, and sheer ruggedness of this scope. Bottom line, you can hunt any kind of big game in North America with the Vortex Viper, and you will have a riflescope of excellent strength and clarity.
USHuntGear's Vortex Viper 4X16X50mm Performance Rating
Function In The Field
10.0
Optical Clarity
9.8
Brightness
9.8
Reticle Quality
9.8
Value For The Money
9.6
Click On Box Below For Price And More Information
Performance Class
Leupold VX-3i 3.5-10x50mm Matte Duplex
Field Score 9.72 out of 10
3.5x10x50mm

1" Tube

Duplex Reticle

Matte Black
Hunter Quick Review: The Leupold VX-3i 3.5X10, in 50mm, is one of those almost perfect hunting scopes. Leupold has been making higher quality riflescopes for decades, and it certainly is more than evident in the VX-3i.
We really like this rifle scope for an all around piece of hunting scope glass. The lower 3.5 magnification range gives the hunter some close in field of view, and at the same time, a hunter can turn up the magnification to 10 power and produce zeroed in shot placement at some pretty respectable yardage.
The light transmission on the VX-3i is extremely good. The 50mm objective can grab a lot of light, so when the sun starts going down and all things turn dim, the VX-3i is sucking in every bit of light that it can giving the hunter a much better lit up view than with just the naked eye. This really comes into play for making those tough brush shots at distance when you are in the last few minutes of legal shooting light or in the slow gaining light of early morning.
Clarity is outstanding. Fine detail, even further downrange, is quite good for a rifle scope. Picture quality during power ring transition between 3.5 to 10 gives little visible change in quality.
Everything moveable on the Leupold is fairly tight; but also very smooth. Turrets work without flaw; eye piece dials in without issue.
All in all, the Leupold VX-3i is an apex type scope for an apex type hunter. In our opinion, this scope would work very well as a premium Whitetail hunting scope on any quality rifle; not to mention other big game as well. Magnification is low enough to allow quick reaction shots, whereas, the higher power of 10 allows for exact shot placement at across the alfalfa field ranges. The VX-3i will run the hunter just over $400. This is a very, very good price for an almost perfect hunting scope.
USHuntGear's Leupold VX-3i 3.5x10x50mm Performance Rating
Function In The Field
9.8
Optical Clarity
9.8
Brightness
9.8
Reticle Quality
9.6
Value For The Money
9.6
Click On Box Below For Price And More Information
Professional Grade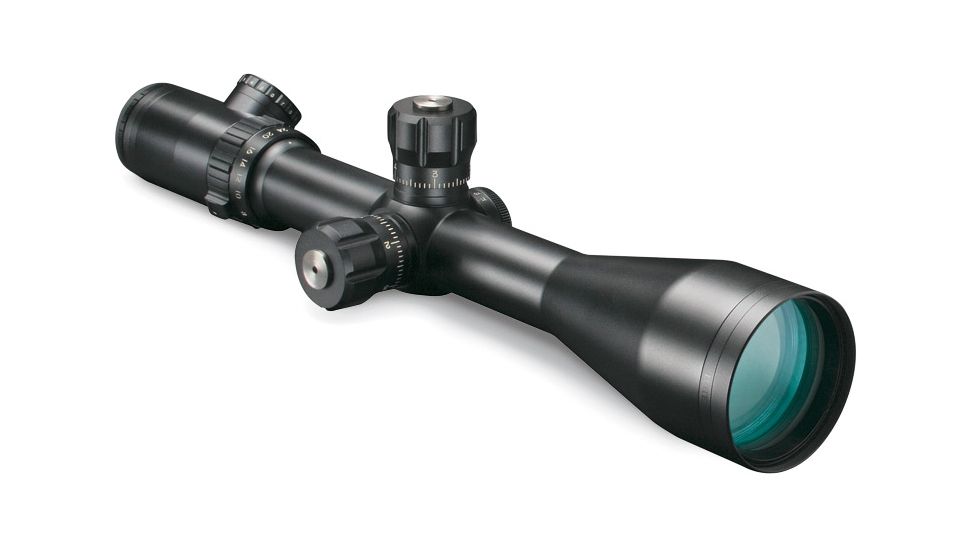 Bushnell Elite Tactical 6X24x50mm G2 DMR Reticle
Field Score 9.76 out of 10
Extremely wide magnification range, from 6x to 24x
Ideal for medium range applications and extended long-range shooting
RainGuard HD lens coatings keep moisture off the lens, improving visual clarity and fidelity
Fully multi-coated optics improve brightness, light transmission, and contrast
Single piece tube construction is tough and durable
2 inch sunshade blocks glare while looking through the viewfinder
Side parallax adjustment improves accuracy over long ranges
30mm tube will mount on many different rifle scope rings and bases
Matte Black finish won't reflect light and give away your position
Covered by Bushnell's No Questions Asked Lifetime Warranty. It's Bushnell's everlasting pledge to honor the purchase and guarantee your complete satisfaction, promising to repair or replace your product and ship it back to you at absolutely no charge.
Hunter Quick Review: The Bushnell Elite Tactical 6X24X50mm is a long range shooting dream riflescope. Although technically a "tactical" scope, we have included it in here for those hunters that take their hunting to the extreme distances. The Bushnell Elite Tactical would be a great choice for the hard-core predator hunter shooting ultra flat calibers and loads; ideal for the super serious, trophy Pronghorn hunter looking to extend their reach; even the expert sheep hunter needing that extra distance to close the deal on a once in a lifetime trophy ram.
We cannot say enough good things about the glass on this scope. The clarity is outstanding. The fine definition consistency going through the power magnification band is almost unparalleled. The reticle illumination on the DMR is fine and precise. There is no problem with low light shooting as the 50mm objective grabs all the light it can and gives the shooter a clean, bright picture even at pre-sun up and post-sun down.
The Bushnell Elite Tactical holds zero, dials in with consistent measurement, delivers on-the-money shots out past 500 yards, and then some.
With all that good stuff said, what has really taken us is how durable this scope is. Many high-end, long range riflescopes are made for the bench. They are shooters, but not something we would take on a high mountain hunt up into the crags. The Bushnell Elite Tactical is every bit as savvy a field riflescope as it is a benchrest shooter. It is built exceptionally well, and it is easy to see that Bushnell has paid lots of attention to designing the superior ruggedness of this scope.
The Bushnell Elite Tactical 6X24X50 G2 DMR will cost you about $960. Sure, this is a fair bit for a riflescope; but, when you need to make perfect shots consistently out past the 500 yard mark, for under a grand this scope positively can do the deed.
USHuntGear's Bushnell Elite Tactical 6X24X50 Performance Rating
Function In The Field
9.8
Optical Clarity
9.8
Brightness
9.8
Reticle Quality
9.8
Value For The Money
9.6
Click On Box Below For Price And More Information